The Shopping Trip,
or How to Survive 10 days cheek to cheek in a Fiat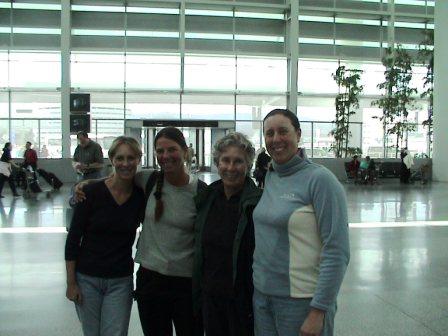 Leaving San Francisco, practicing our cheek-to-cheekness
First there's the fitting into the Fiat!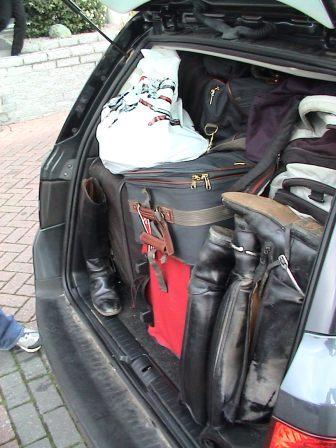 We asked to see if there were bigger cars but this was it so we packed creatively and got
rather good at putting the puzzle together every morning.
Then there was a lot of this view:
Heidi was the master chauffeur and Tanya and I traded off navigation roles.
They don't use north and south for highway directions because roads bend and
twist often, but use town names to indicate which way you're headed. This is
helpful if you can tell where you are, which isn't as easy as you might think!
Its important to know the towns *around* where you want to go as well as
the proverbial "know where you are starting from"!! Incidentally, we
learned that almost every road leads to Munchengladbach - not Rome!
After getting lost in what we later discovered was Dusseldorf, we decided a
better map was in order and managed to find one which simplified much of
the rest of the trip. Found that most Dutch speak some English and are very
helpful if asked...not so much true in Germany.
Holland looks a lot like this: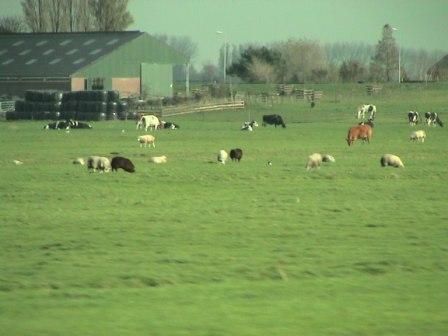 In other words, Pacho has no biological reason to be so cow and sheep phobic -
the dutch ponies live with them all the time!
Our gang started by heading from Amsterdam up to the north east aspect of
Holland to look at horses in that region with an agent who knew the area. Rode a few
horses but for the most part we were not impressed with the mental/physical soundness or the
quality offered in that area in our price range. One notable and memorable moment transpired
when the most athletic horse we'd seen to that point got wildly spooked and took
off at a dead run with Sandy aboard -- we later dubbed him Seabiscuit despite his Hannoverian
lineage. Fortunately the footing in the small indoor school was very good and Sandy's ability
to think clearly under panic situations is excellent and she got the runaway under
control within a few minutes.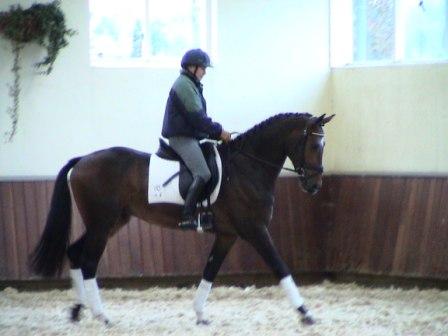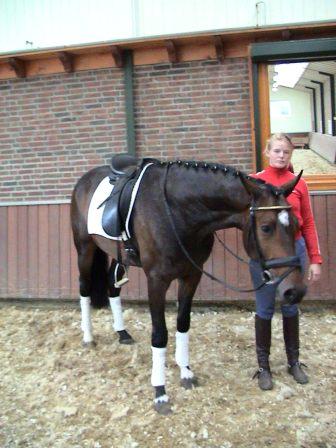 Seabiscuit after his trial
We popped literally about 200 yards over the German boarder for dinner one
night to a Uber-quaint tavern for a great dinner - the waiter spoke no english
but we managed to have good food despite being often surprised at what came
on the plate!
One of the nicest places we went to during the whole trip was in Holland,
a private stud farm with a riding branch. It had been a brickyard in a former
life and they had recycled all of the bricks to make the farm. It was very
horse-friendly as well as functional and well-presented. Giant stalls with giant
run-in paddock that housed 4-5 yearlings and two year olds were a first to
see in such a nice presentation. We looked at a Joey sibling and another
guy (both 3.5 year old stallions) in this most gorgeous facility but decided the
horses weren't on our top list.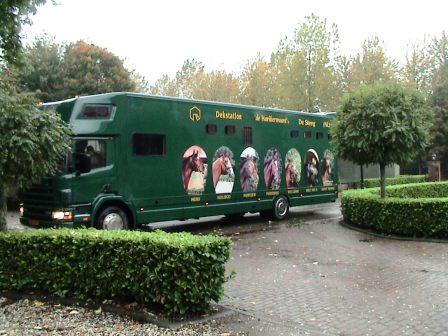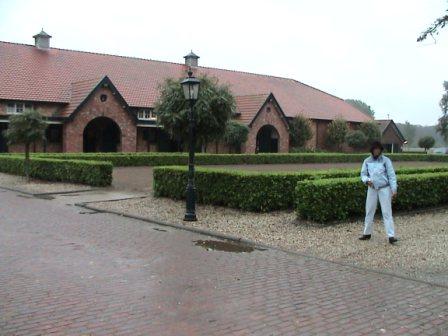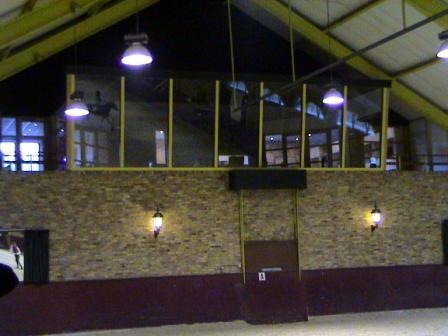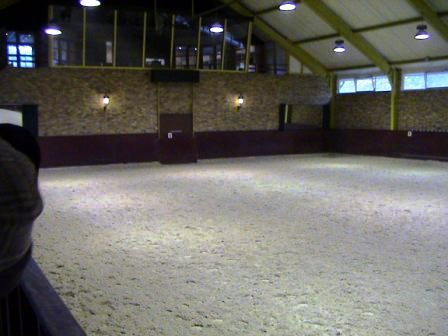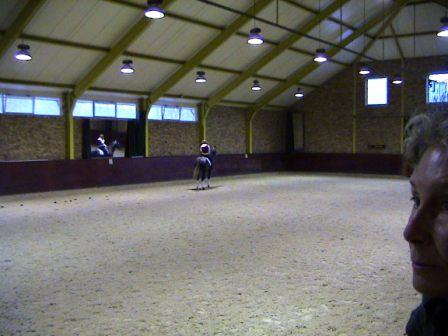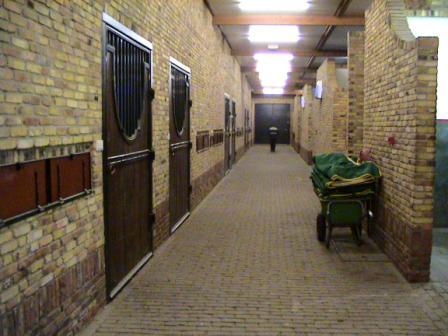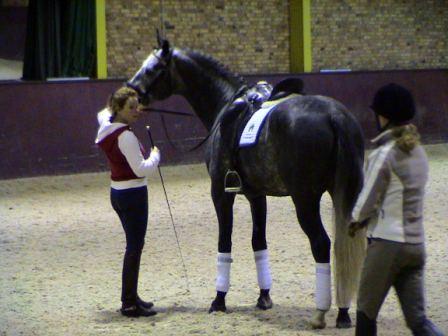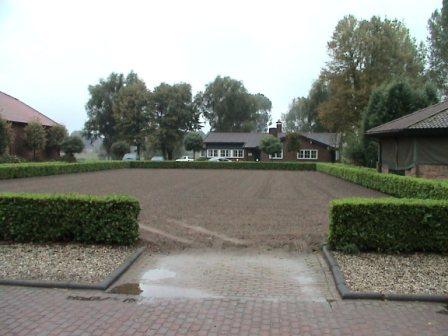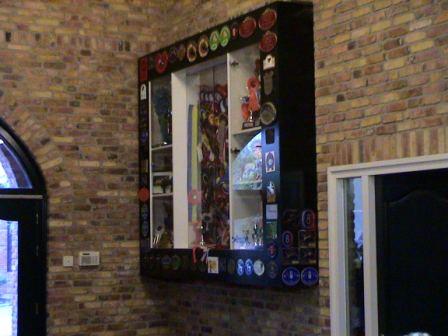 Here is another farmer's place we stopped by: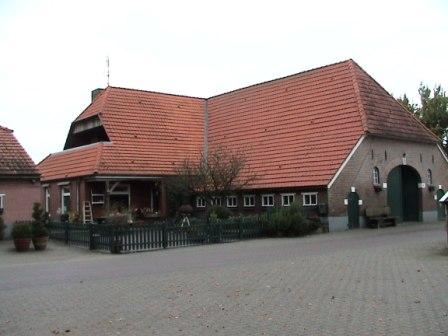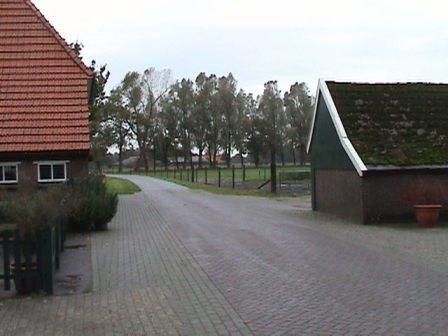 We were amazed at how everything was bricked over - a good thing in such a damp country -
really tidies things up a lot!!! the big building is a combination barn and house, very common to
have both in the same structure for farmers. And because some of the barns have been converted
from dairy barns, the doors are often very low -- and the horses learn to deal with it! Frequently
we were struck at the differences in code or standards from the US -- including no thought to
having us, unknown riders of unknown abilities hopping on horses of unknown temperaments for
a short ride without a release or anything. We did see a few riders with helmets, but this was not
the norm.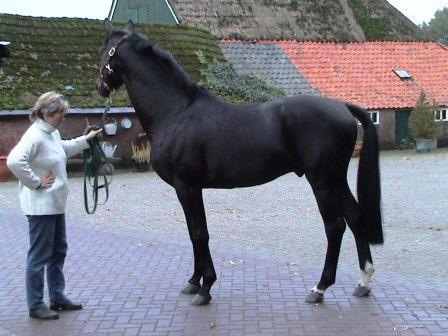 One of their stallions, nice but so far
out of our shopping range we didn't want to see him move and then fall in love!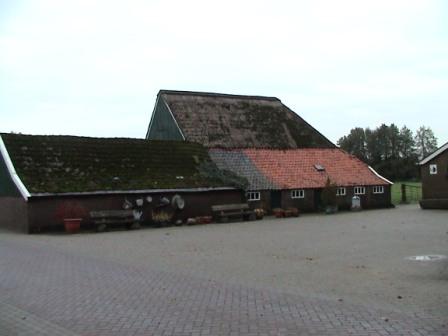 Thatched roofs too!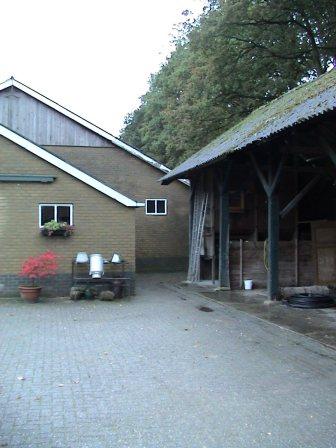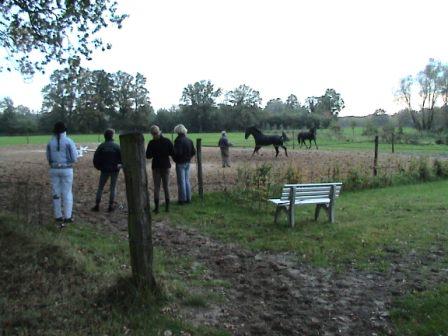 This was a lovely mare they had just bought to breed...we were impressed - such a nice mover but no plans to have a work career at all!


We saw quite a few horses in the part of Holland but nothing really interested
our primary shoppers and we headed to Amsterdam in a bit of a funk... And a lot
of Holland looks like this: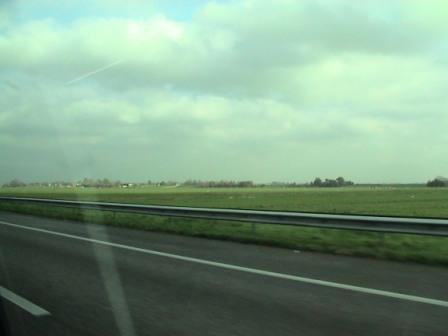 In other words really really really really flat!!! And fewer trees than Germany.
We got to Egbert's place near Amsterdam where Livvy works and finally saw a nice prospect -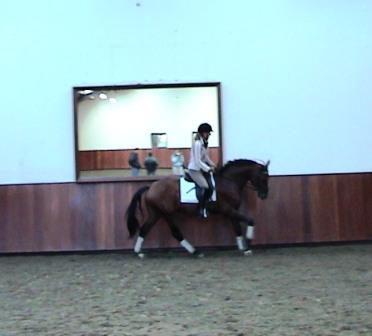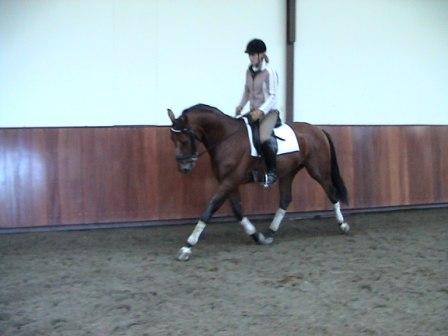 Who was SUCH a dear sweet horse - really big doe eyes and a real baby but sucked it up and moved like a Beeeg Horse under saddle.
He was just 3.5 years old and at the sales barn for 10 days and was tuckered out but really tried hard to be a good kid. He was a definite
possibility and we thought things were looking up in terms of horse selections which they were.

Our next stop was a barn 10 minutes away where Sandy tried a Wenzel 5 year old - she really liked him and looked good on him but
our initial "pre-vet" showed some strains in the front legs likely related to conformational problems. Good to know but hard to learn. He
had a great personality and was very communicative -- and a relative to Susan Holt's Winsome who we had all enjoyed at our place.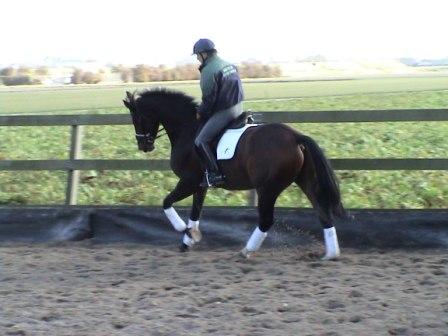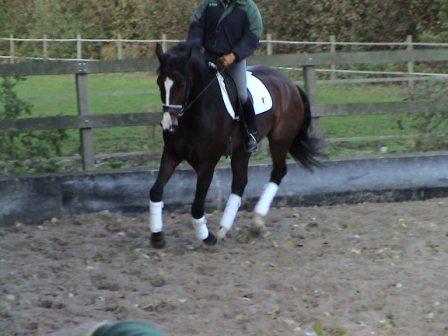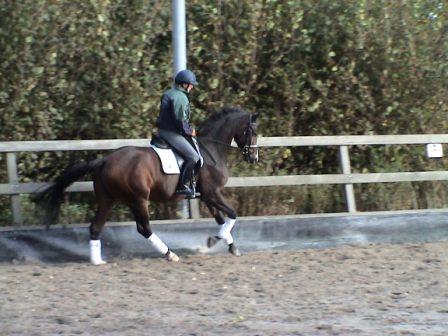 We had to check out a local tack store - found that the prices weren't all that great and
the selection though better than our local stores, wasn't enough to get worked up about.
We did find a grande sized bit for Andy - and some petite equines out front! These miniatures
are all OVER the fields through Holland - fat as a pony could be but appear to be mowing
the countryside...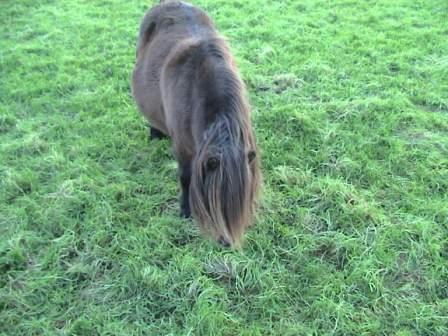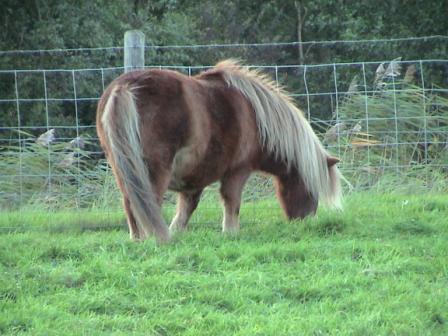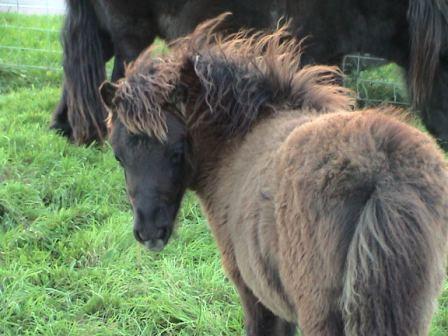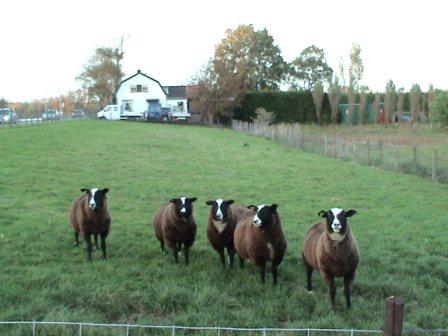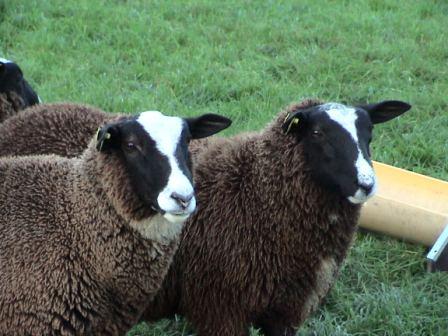 Sheep with blazes!
Then we got to give Livvy a group lesson - one rider with a group of instructors teaching by committee - she did
very well with this often challenging approach to Turbo Instruction and took copious notes afterwards to make sure
she had the concepts clear. She gets to ride a lot of horses but doesn't get the detailed instruction she's used to!!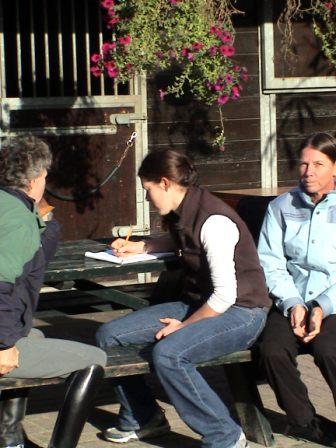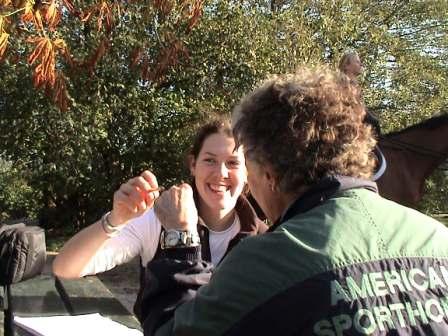 Sunny!!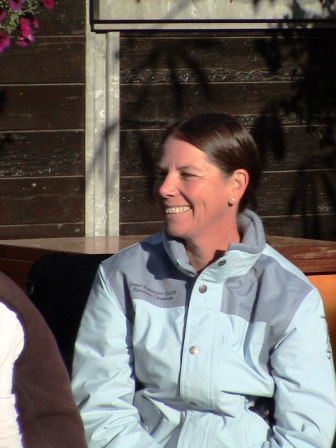 We found an internet cafe and looked up some additional horse dealers in Holland and headed to Jordan Stables in central Holland on
our way to Germany and found exciting prospect #2, to become known as the Jordan Bay. He is a nephew of Joey -this horse is by
Munchausen who is by Joey's daddy. He was a perfect gentleman for a 4 year old with less than 5 months time under saddle and we
all liked his ease and strength and steady temperament. One of our boarders is vetting him and he may come to the US shortly.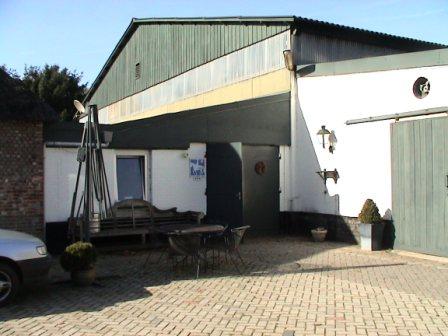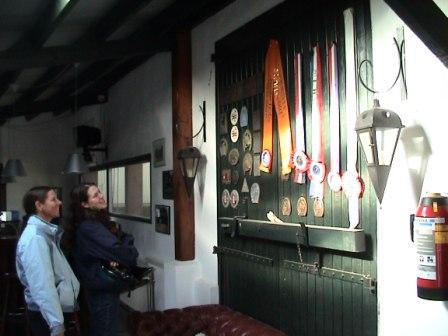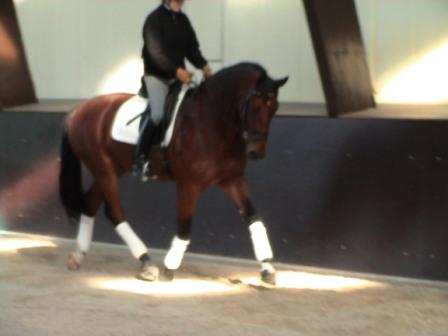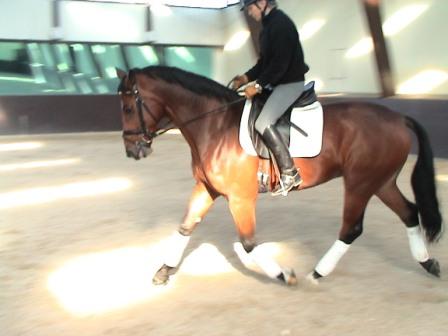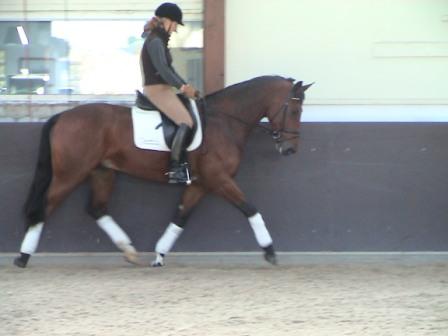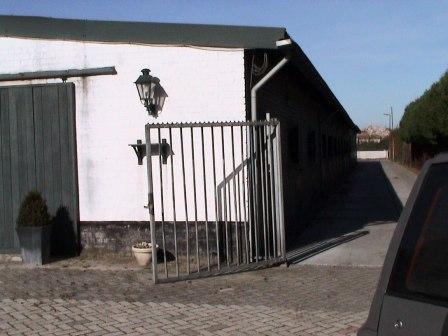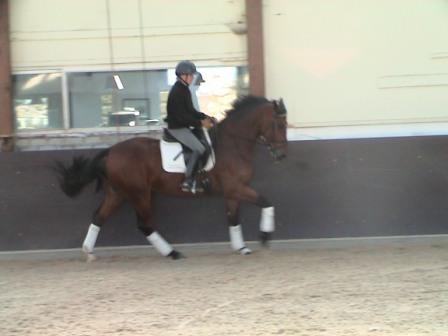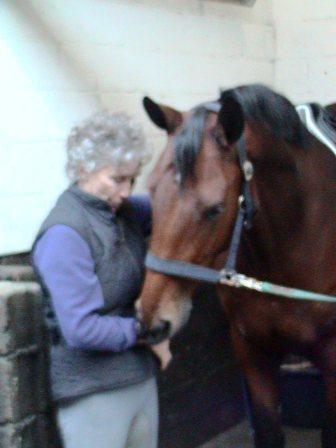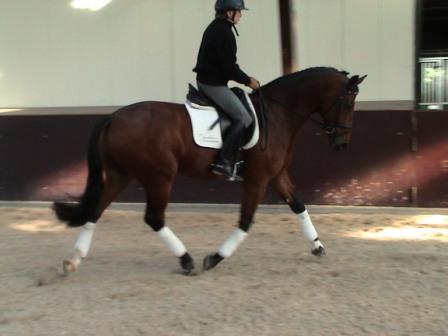 We also saw 4 other horses there at Jordan, this stallion was interesting too: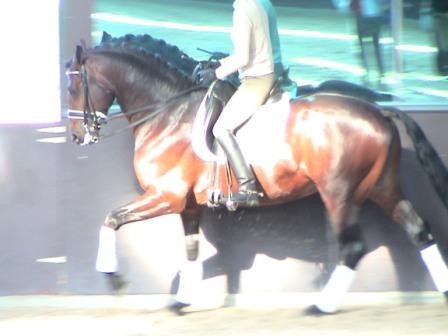 but he had some significant restrictions that made him more of a risk, tho Tanya said
he was the most cushy thing to sit on ever! She could hardly tell when his feet hit the ground!!
So off we headed to Germany - two nice horses in hand, to start shopping with
Alexa. One of the first places we went was this castle in Wickrath which is a state
farm for farmers to bring their horses to to get started and sold. Quite an impressive
facility!!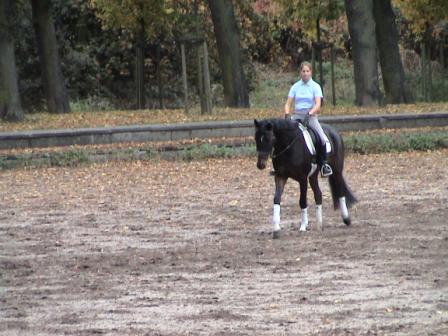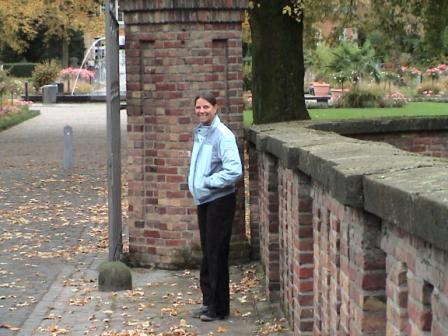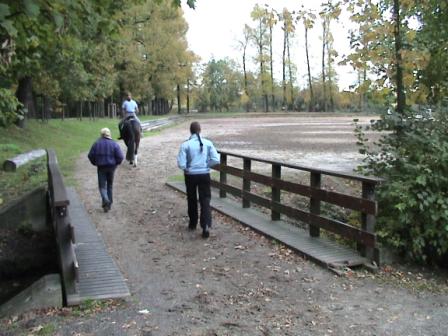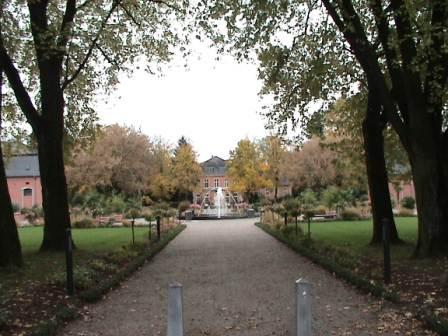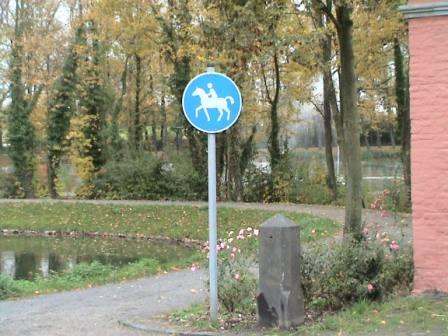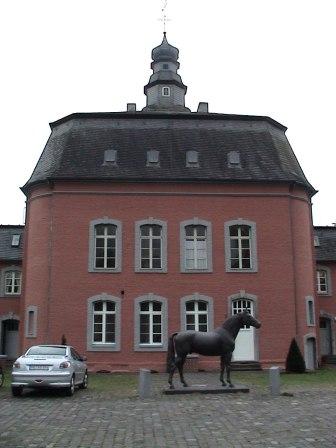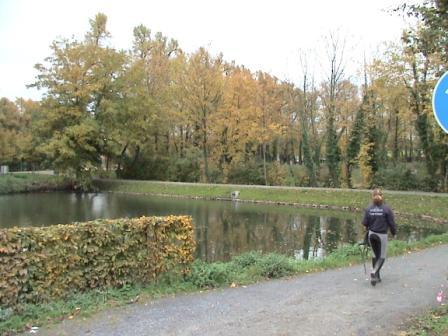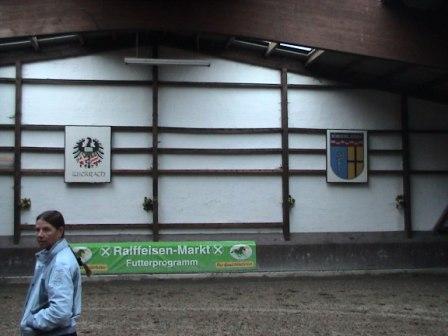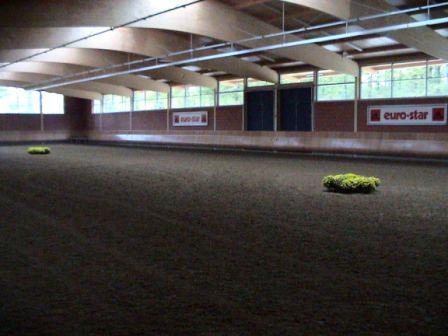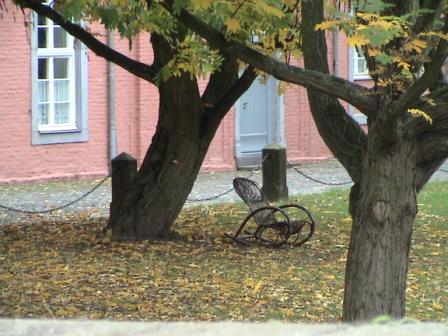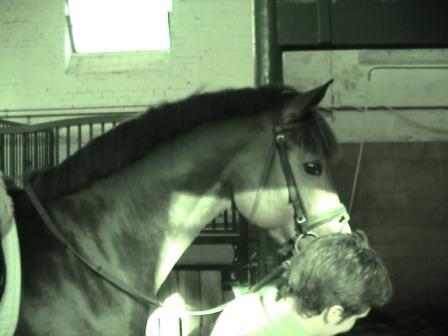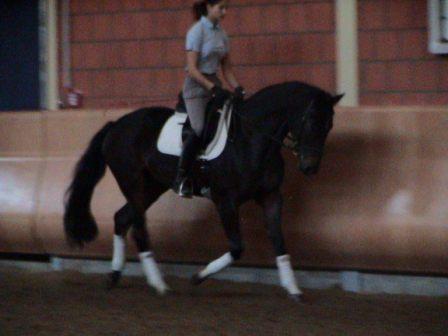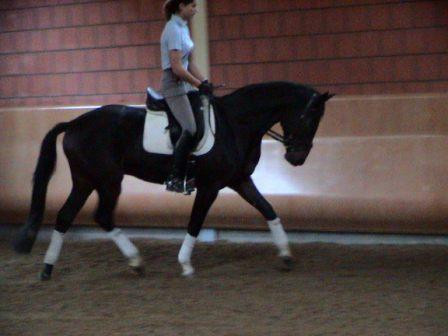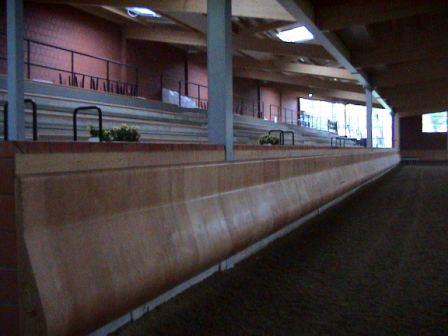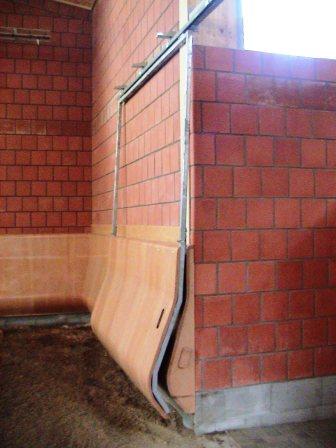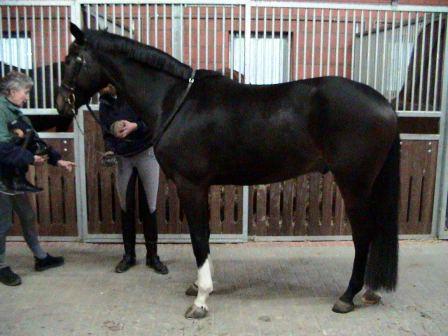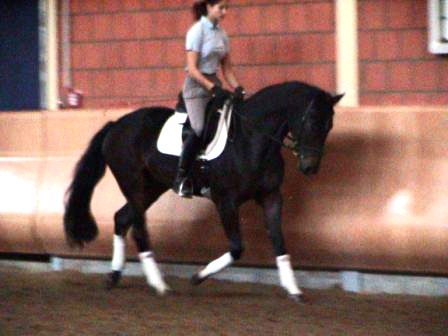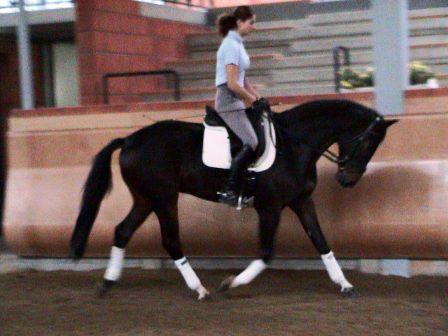 Heidi has an eventing student interested in this nice youngster
This horse is Alexa's daughter's new horse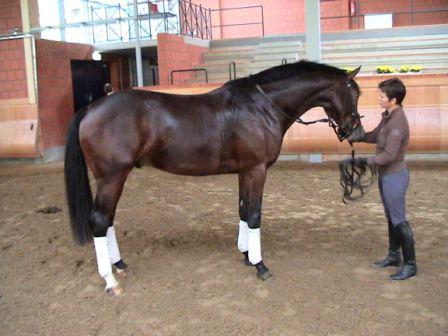 Then we headed to see another stallion and some young horses at a private stable:
One of our stops in Germany (near Munchengladbach!! Really! All the signs said so!)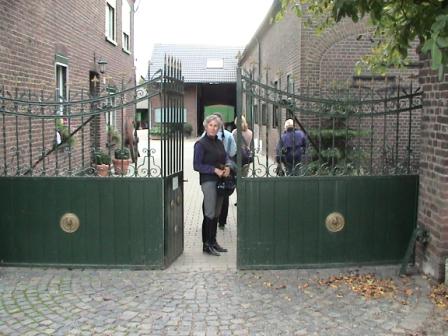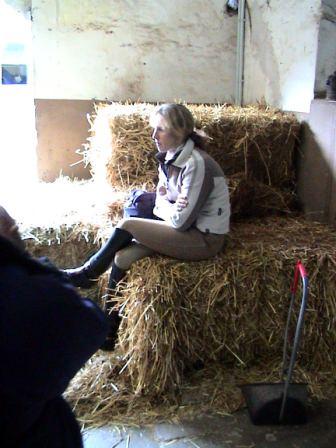 C'mon, show me something really good....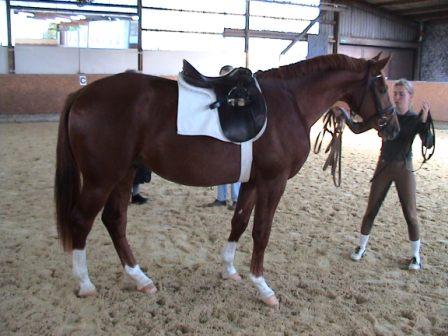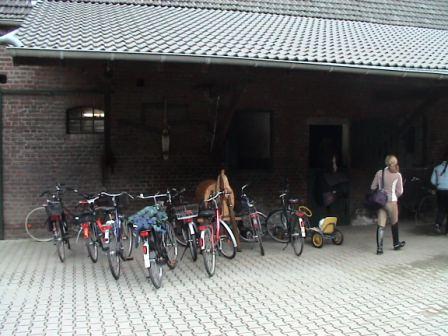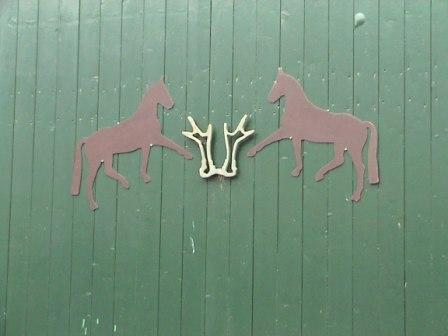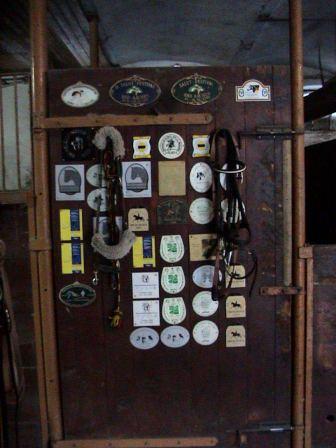 Some horses have their show winnings one their stall fronts - less munchable than ribbons!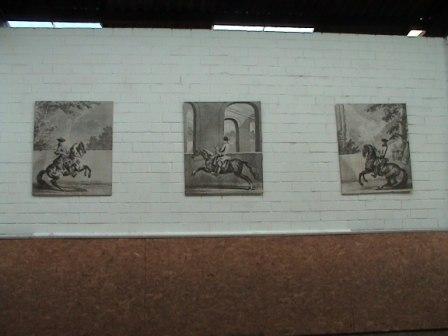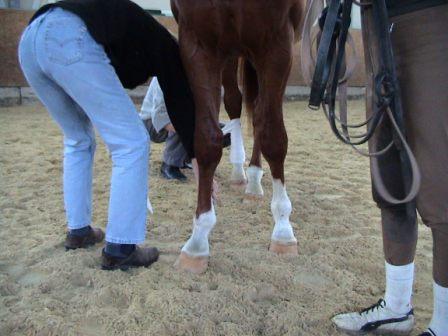 Tanya and the rest really liked this one....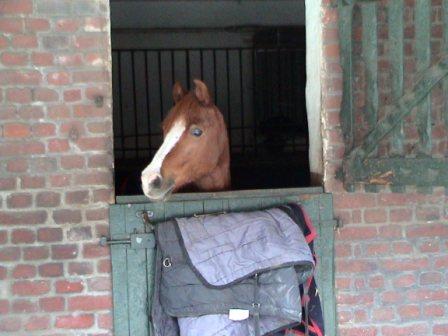 They had cute ponies here too!
Saw another small stable who had an approved stallion to show Alexa: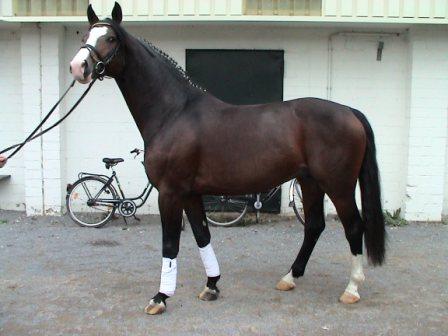 we got to see one of his babies too who was uber-cute!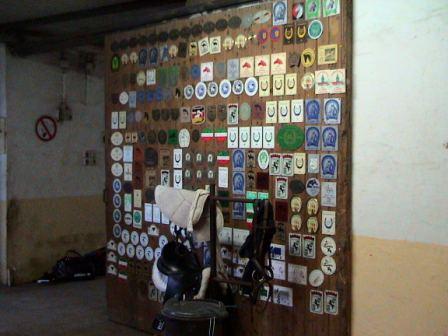 Other barns have a composite brag wall...
Then it was a loooooooong drive to the north sea to see horses at lower rent stables....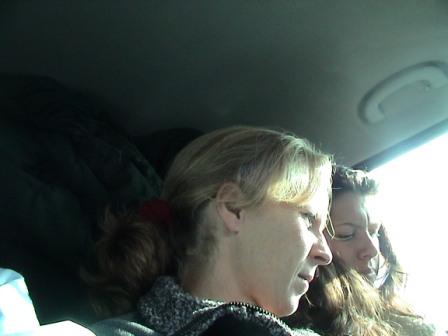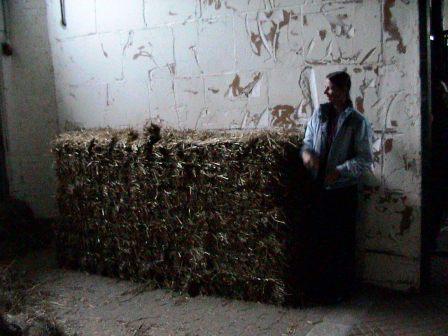 Really big hay and straw bales!!!
Including this cute guy who Sandy really liked. Tanya's report on dismounting "TURBO JET"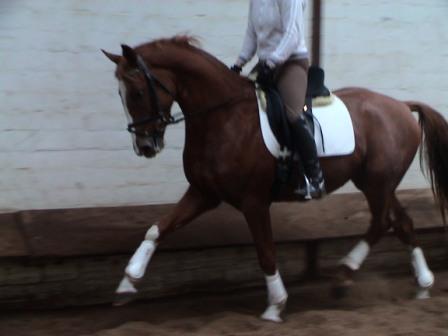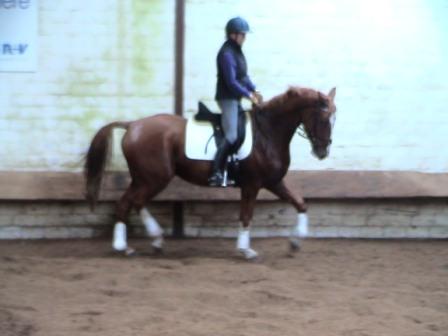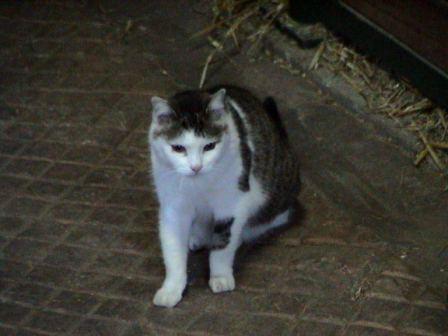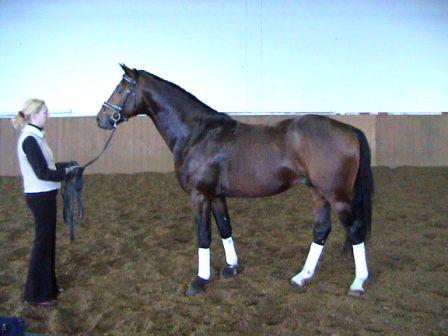 This guy reminded us a lot of a baby Joey - needs to grow but Very Fancy!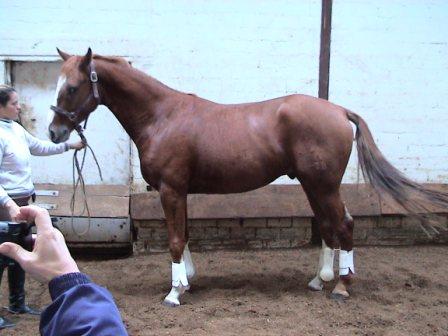 Mom's prospect, only out of the rough north sea pasture for 4 weeks
Then we had a day off and went to the Global Dressage Forum held at the
Bartel's Academy. It was quite the impressive event with international trainers
and judges and top riders discussing the concept of Dressage Horse as "The
Happy Athlete". Not a lot of concensus as to who was the happiest horse out
of the top 6 from the Athens' Games (tho being in Holland, Anky was very much
favored) and it was clear that different judges and trainers code happiness in
many different ways. One of the scientists present thought to see the horse back
in the stall would be more helpful, other judges didn't want to see any tail movement
or tension through the movements. While it was an interesting discussion, I don't
think any clear decisions were made... Got to see Briar live and Kyra K on a
dark horse she hasn't shown much, as well as presentations from Zeilinger and some
very interesting scientists on horse science as it applies to stress measurements.
The trip wouldn't be complete without a stop by Divoza!!!
Boots, breeches and tack galore!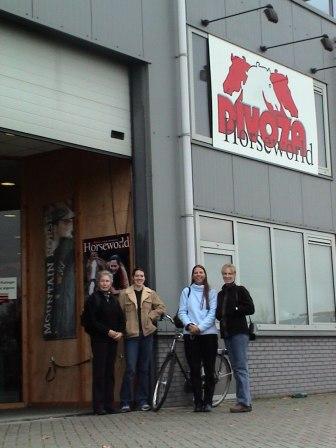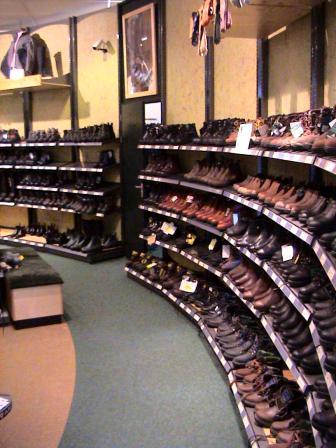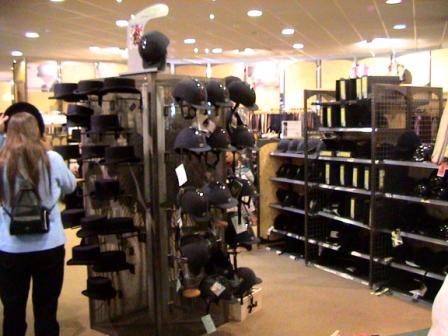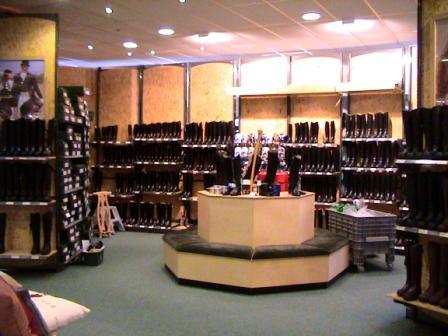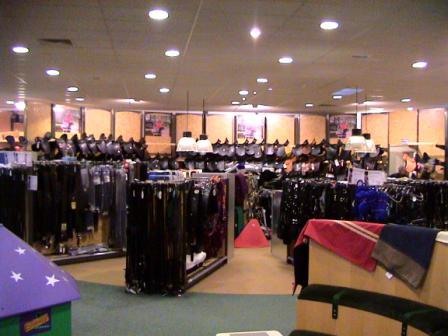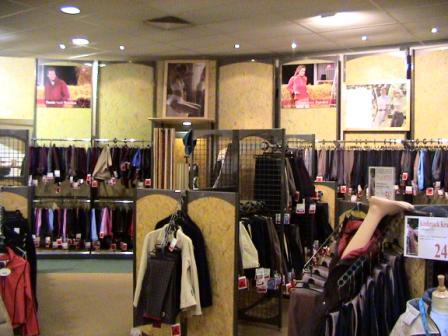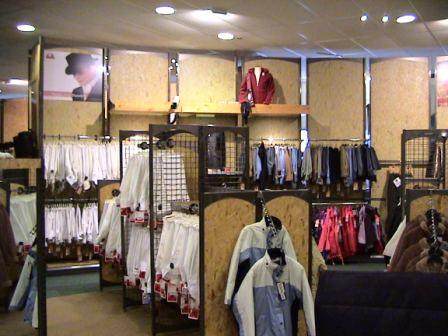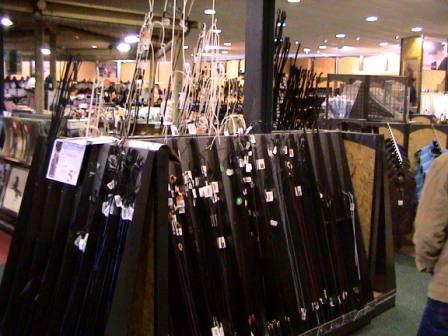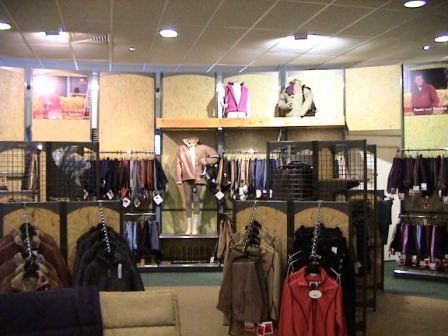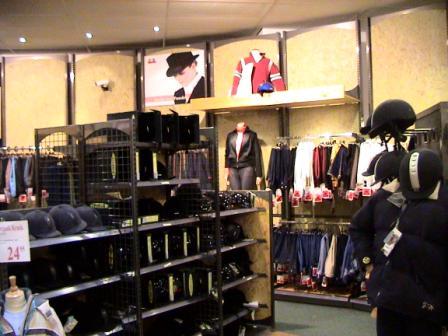 At the vet check....waiting....and waiting....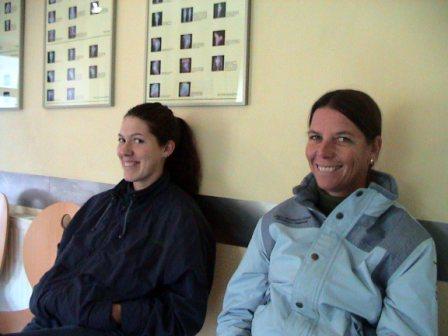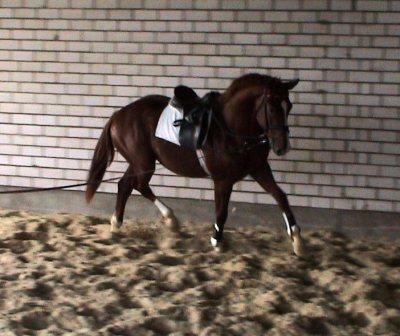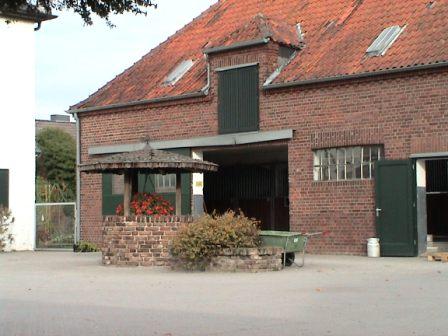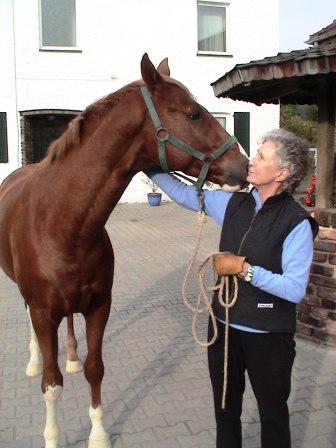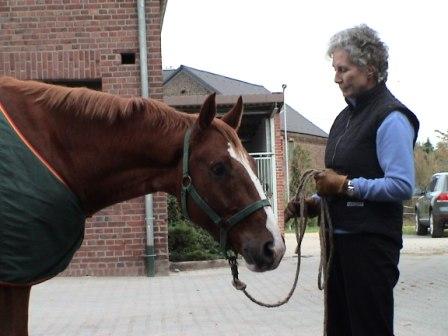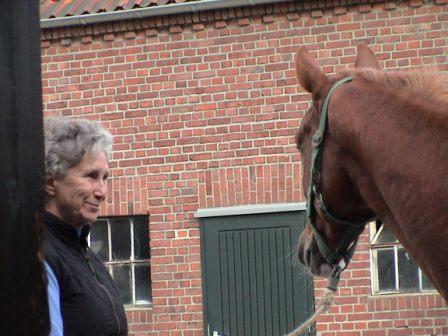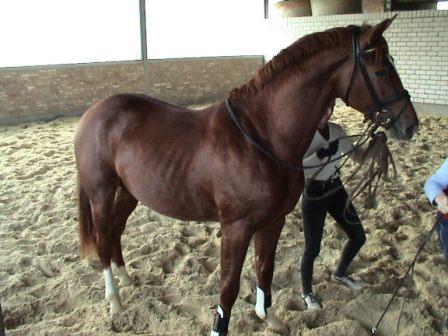 And the results are pending, but meet the "likely to arrive soon" boys!!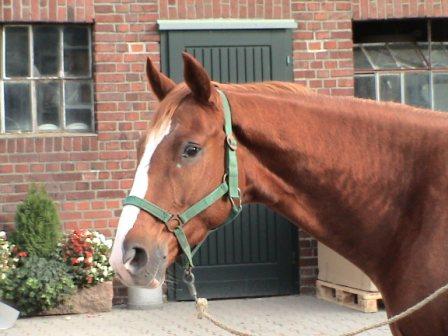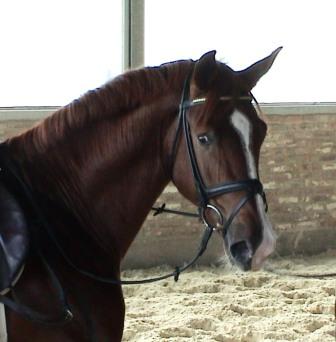 A DiCaprio almost 4 year old gelding A Fidemark almost 3 year old stallion (but not for long)