Anne B. Howard
~ Equestrian Resume ~
Updated 3/2006

As an instructor, I focus on helping horse and rider understand each other. The horse needs to learn the balance and skills of the sport,
the rider needs to understand the sequence of steps and the body and mental skills to communicate with the horse. The rider needs to know what is possible and how to guide the horse in appropriate steps along the path their sport demands. My teaching approach combines my foundation in dressage and eventing with my extensive physical therapy training focused on optimizing human biomechanics. I find the blend of the two to work unusually well in helping students solve their individual challenges in riding. There may be physical reasons that prevent either horse or rider from performing with ease or clarity that can be resolved with focused therapy or exercises. With a solid and unusually diverse background in many types of equestrian training and competition, I have enjoyed success in the show ring as teacher, coach and competitor. Following is a summary of my equestrian education and competitive history.
Dressage
Clinics or regular instruction:
Sandy Howard from the beginning and continuing!
Mary Wanless (author of The Natural Rider, Ride With Your Mind): since 1991
David Hunt: several clinics annually starting in 2004
Maj. Anders Lindgren: 13 years of regular training sessions 1980 - 1994
Sandy Pfleuger (USET member): Several 3 day training sessions in the 1990's
Guenter Seidel (USET member): Clinics 1994-2000
Joan Bolton (FEI Rider): Clinics 1998- present
Alexa Shulten-Baumer: Several clinics 2000-2002
I have ridden with other clinicians as well - but the above have been most influential.
Competition Record
Shown Training through Intermediate 1 (& Young Rider FEI Tests). Scores over 70% at all levels.
Co-composed nationally placed freestyle rides and regional Championship Pas De Deux
Placed as high as second in the Young Rider Selection Trials in 1988.
Schooled in all GP movements (Bull Market, Pilgrim, Pioneer).
Member of 1996, 1997, & 1998 and 2005 CQA Champion Quadrille Freestyle team (American Sporthorse).
Pioneer: 1989 Fourth CDS Open First level HOY (home-bred & trained)
1989 Member of Championship Pas de Deux
Winner of Horse Trials at King Oak, Wild Horse, CTETA and more
60%+ at PSG, and schooling through all Grand Prix movements at his retirement

Posh: 1994 Reserve Champion CDS Open Futurity (home-bred & trained)
1995 Fourth in Open 2nd Level CDS HOY
1996 Member of Championship American Sporthorse Quadrille
1997 Undefeated in open 3rd level competition with scores to 73%
Third place HOY at CDS Championships
1998: USDF Champion Region 7 Third Level Freestyle
1998: USDF Reserve Champion Third Level Open
1998: CDS Reserve Champion Third Level Freestyle
2001: Winner California Cup at 4th Level (Freestyle and Open)
2002: Competed in CDI at PSG, 3rd place in Nation at PSG USDF All Breeds Performance Horse Registry
2004: Zone Champion PSG
2004 USDF 11TH Place 4th level FS with 68.855 median
2004 USDF 52nd in nation with 65.750 median score (370 horses qualifying)
2005 Coastal Classic California Cup Champion at Intermediate 1 (72%), FEI High Score Award
2005 USDF All-Breeds: Performance Horse Registry Intermediate Champion and Intermediate 1 FS Champion
(did not show at CDS Annual due to rider injury)

EuroPro Pacho:
2003 1st Place NAWPN Open Training Level (USDF All Breeds)
2003 9th Place Training Level USDF Horse of the Year, 73.846%
2003 1st place, Warm Up class at CDS Annual Show, 7th HOY, 9th ABIC
2004 1st place NAWPN Open First Level & First Level FS (USDF All Breeds)
2004 5th Place National Ranking USDF First level with 72.361 median
2004 2nd Place National Ranking USDF First level FS with 76.875 median
2004 2nd place national Ranking USDF Musical Freestyle Challenge award with 74.167 average
2004 USDF Regional Champion First Level FS
2004 USDF Regional Reserve Champion First Level Open
2004 CDS Reserve Champion First Level Open Horse of the Year
2004 CDS Reserve Champion First Level FS Horse of the Year
2005 USDF Second Level Freestyle Champion (75%) and Freestyle Challenge Champion (71%);
10th 2nd Level HOY (national ranking)
2005 2nd Level Open Champion at Pebble Beach CDI
2005 High Score Coastal Classic 2nd level Open, Freestyle Champion, California Cup & KWPN Award
Other
1982: USET groom on European Tour to the Dressage World Championships.
1996: USDF Regional Freestyle Coordinator
1997: USDF Regional Competitor's Council Representative
1998: GMO representative at USDF Convention
1999: USDF Quadrille Committee member, Competitor's Council member
Several terms as CDS Santa Cruz Chapter board member
Misc:
Manager / Secretary of CDS and 3 star recognized dressage shows, Midsummer's Night Dressage at American Sporthorse
Founding organizer and ongoing board member of the Coastal Classic freestyle and quadrille extravaganza.

Since1991, I have been combining my skills as a physical therapist with my equestrian background to create a fitness/sports specific training program for riders. Speaker on this topic at the 1994 CDS Exposition and 1996 CDS Annual meeting, and have presented similar exercise seminars in Santa Fe, Sacramento, San Diego, Santa Cruz, Portola Valley, Kansas City and Los Angeles. May 1996, filmed exercise video for riders with Mary Wanless: A Rider's Guide to Body Awareness (Released in Jan 1997). Consultant on For The Good of the Rider, Mary Wanless' most recent book (1998). Presently working on multi-part study for rider biomechanics with Sandy Howard.

Currently: CDS-Santa Cruz Chapter Board Member, contributor to on-line horse forums, regular Dressage Today contributor for the Ask the Experts column..

Eventing
Although eventing is more of a hobby, I have been very successful in the eventing that I've done due to the basics the dressage has given me. At Novice, Training, and Open Training I have won over 70% of the events entered, including wins or reserves at RamTap, Wild Horse, CTETA, Meadows of Moorpark in CA, and King Oak Farm (Massachusetts). I am happier though with the comments I have received that my horses look happy, relaxed and in super form (One TD said it was the most beautiful stadium round she'd ever seen!). Through starting an eventing club in Los Angeles, I began to teach newcomers to eventing the skills to ride safely and take good care of their horses through an adult-type Pony Club. In teaching jumping, I stress the rider's control on the flat and teaching/allowing the horse to jump well and confidently.

Vaulting
Although I no longer personally compete in the sport (actively competed 1975-1989), I still occasionally consult with vaulters. As a vaulter, I earned Bronze, Silver, and Gold proficiency medals from the national association (AVA). As a coach, I worked with teams on both coasts, and took teams and individuals to Nationals with success. The skills used in teaching vaulting have also proved useful in teaching riding. (Coaching positions held with Valenica Vaulters, Pegasus Vaulters, Westwind Vaulters, Mount Holyoke Vaulters, and Monte Vista Vaulters - involving training of horses and vaulters.)

Other Equestrian Experience

* Personal interest in equine rehabilitation and sports medicine
* Worked with young horses from pasture to their first shows "in hand" & under saddle through FEI levels
* Retrained horses from dressage into green hunters and eventers; and jumper to dressage
* Hauled horses from coast to coast
* Judged schooling dressage shows, horse trials, and regional Pony Club dressage rallies
* Pony Club guest instructor
* Shown successfully in USEF "C" & "B" hunter/jumper shows
* Some experience driving single harness and navigating for CDE's
* Several training sessions with Art Gaytan's & Monty Roberts' styles of ground & saddle work

* Member: California Dressage Society - Santa Cruz, AHSA, USDF. American Physical Therapy Association, Orthopedic section and Women's Health section, American Association of Orthopedic Manual Physical Therapy, American Medical Equestrian Association.
Information updated monthly on my web-page at: http://www.in-balance.com
---
Brief Bio:
Anne Howard, MPT
PT background:
Master's from USC in Biokinesiology and Physical Therapy in 1992.
Research topic: Motor Learning theory with coaching applications
Co-owner of Valley Physical Therapy with offices in Boulder Creek and Scotts Valley, CA. 1994-2004
specializing in spinal orthopedic rehabiliation and manual therapy.
Presently in solo practice 831-247-5584; Bodies In Balance and Anne Howard Physical Therapy
Customized seminars on rider biomechanics, spinal stabilization and preventing back injury for riders.
Extensive coursework post-grad in different physical therapy techniques including Integrative Manual Therapy and Australian approaches
(CV online)
Undergraduate: BA, Smith College, 1989.
Biological Sciences with a minor in exercise and sports studies (emphasis on sports psychology and kinesiology).
Riding: Currently teaching dressage with emphasis on seat and position. Dressage and
eventing competitor for 25 years through FEI levels. Past regional USDF Freestyle Coordinator.
Coached/competed in vaulting for many years, hold AVA Bronze, Silver & Gold medals. Currently
competing with homebred and raised Posh (FEI) and Pacho (2nd/3rd).
Types of clinics:
Exercise seminars
Spinal Stabilization
Back School for Riders
Riding Biomechanics
Body Awareness
Custom design available for your group
Theory sessions/lectures on many topics
Manual therapy sessions (individual) to optimize riding potential
Riding clinics (privates preferred, semiprivates and groups available)
2005 Rates:
Teaching rates:
Per Day: (differences due to required travel time)
$700-800 (Pacific zone),
$800-900 (Mountain/Central),
$1000-1200 (East)

Day = 7 hr. total teach or talk time, session length can be created at the organizer's discretion
If requesting manual physical therapy or lectures, please contact me for details on time frame,
costs, and other requirements for planning.
Plus: All expenses related to the clinic (airfare, parking). If traveling by car, travel fee is .35/mile for the
first 120 miles (round trip total), .60/mile for the next 100, distances beyond that need to be negotiated.
Long term parking at the airport is billed at cost. I don't charge clinics requiring air travel the ground mileage
to SJC airport. I prefer to arrange my own air travel unless clinic has specific needs (using their miles, etc.)

MiniGallery: My life with horses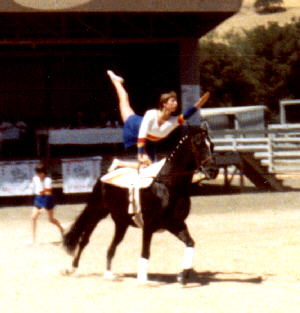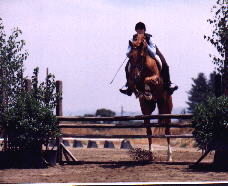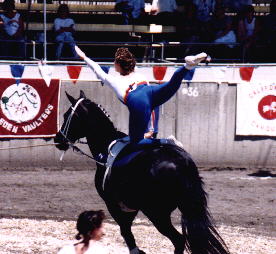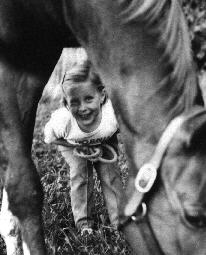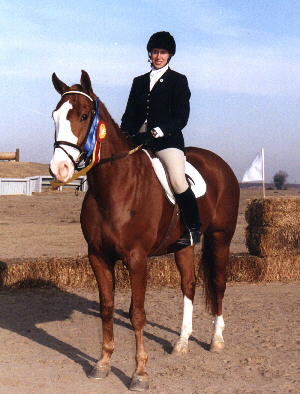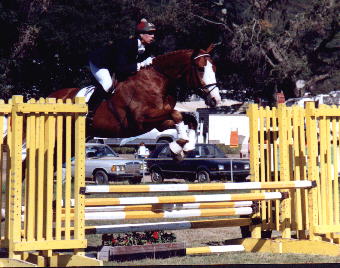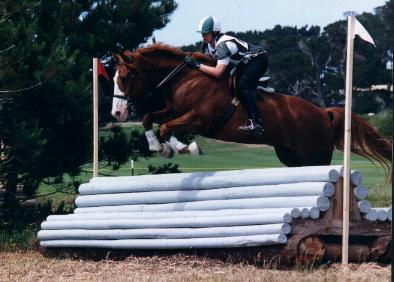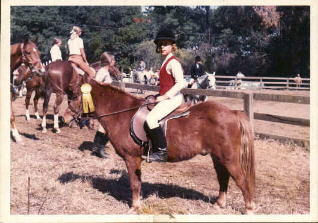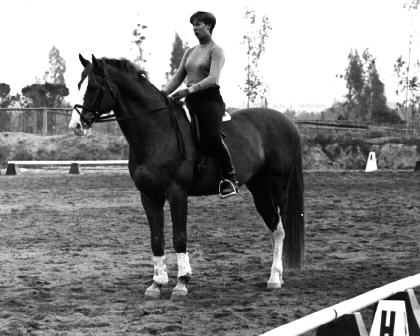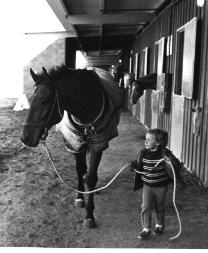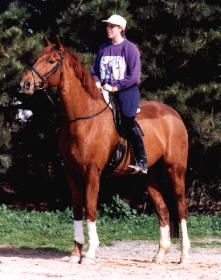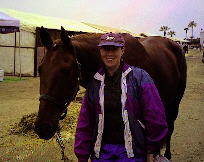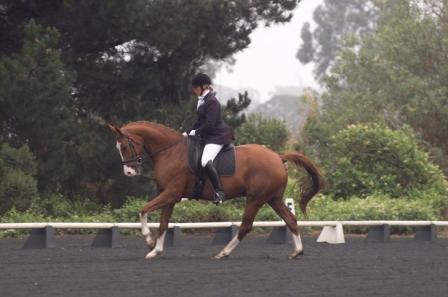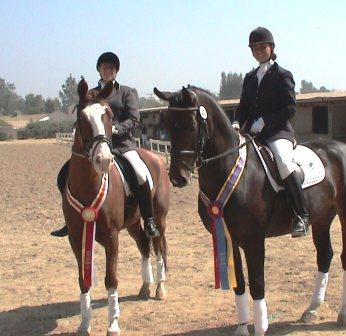 Return to American Sporthorse Index Page